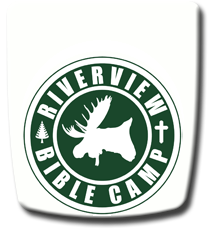 Accommodations
Click to download our camp map
The Cedar Cabins: Located conveniently close to two of our meeting facilities the Cedars are 11 cabins that sleep 10 to 14 people with their own bathrooms, showers, and sinks inside the cabins.
The Tamarack Lodge:The Tamarack is a fully furnished cabin that sleeps 15 with 4 to a room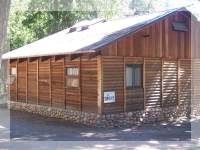 and two bathrooms with showers inside. It has a kitchen and living room with a beautiful deck right next to our camp creek. The Tamarack is ideal for small group conferences and retreats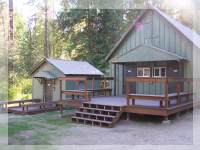 The Fir Cabins: There are 20 Fir cabins that sleep anywhere from 8 to 16 people. These cabins are located close to two large shower and bathroom facilities.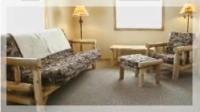 The Pines Cabins: These are cabins that are typically used for your program staff, accessed through the tunnel. Pine 4 has two rooms with a queen bed in each, a living room and bath. Often this cabin is used for a guest speaker. Pine 3 has three rooms that sleep two in each room with a shared bath also. Pine 1 and 2 sleep 14 and 10 respectively, and both have a bath inside.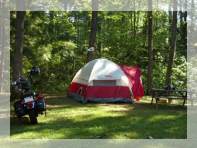 Tent/RV Camp Sites: For those who prefer to stay closer to nature we have 25 tent camping sites and six RV sites, all right next to the river. RV and tent campers pay the same rate per person as any other guests unless your group maxes out the bed/bunk space of Riverview. All RV's must check in with the Riverview office prior to parking, share the number and names of all people staying inside the RV and provide the release waiver. All tent sites have a fire pit and room for a family-sized tent, and the RV sites have power and a potable water fill station (RVs may not stay hooked up to the potable water, you must use your storage tank).
Meeting Rooms
Riverview has many different meeting rooms available, with a wide variety of sizes to fit your needs perfectly. For small groups (10-15 people) The Moose Lounge is perfect, with a fireplace and two flat-screen TVs available to show videos or presentations. For groups ranging from 20-50, The Oak meeting room is a flexible space that is available year round...we'll even put up our sound system for you! For bigger groups we have the Old Tab and New Tab, separated by a large accordion door. Close off the Old Tab for groups ranging from 50-150, or open up the doors and fit your entire group of up to 350 inside! Finally, if your needs include meeting room for 350-500 people, we can set up our gymnasium with an epic sound and light system and fit everyone with room to spare! For more details, or to schedule a tour of the campus, please contact Tim Mason at 509-220-9599.
Sound equipment
We have the following equipment available for our guests to use at no additional charge. If you have any further questions about our sound equipment, please contact Rory Sinclair at 509-844-8889.
24 channel analog sound board
32 channel snake with 4 returns
Two powered main speakers
Two subwoofers with external amp
Four wired microphones with mic stands and music stands
One handheld wireless mic
One wireless lapel mic
Four wedge monitors
Four DI boxes and cables
Two projectors with ceiling mounted screens, one HDMI input mirrored to both screens
Eight stage lights with control board
Rental Opportunities
For a small fee you can rent these facilities and equipment to make your camp experience the best it can possibly be!

| | |
| --- | --- |
| Description | Cost |
| The Kitchen:You also have the option of cooking for yourself in our fully equipped, professional kitchen with 4 convection ovens, tilt skillet, 48 inch by 24 inch flat-top grill, stand up mixer, 2 four well steam lines, large stainless food preparation surface, 2 twelve inch spider burners, microwave, 1.5 gallon capacity coffee maker, 2 twelve rack food warmer/proofers, 2 walk-in coolers, 1 reach in cooler, and up to 5 large chest freezers. Lots of large pots, pans, sheet pans, hotel pans, and cooking utensils are also included. Please read the Kitchen rental guidelines for more details. | $200 per night |
| Climbing Wall/Ropes Course: Great for group teambuilding, personal confidence, and building faith in God, the ropes course and climbing wall are both greatly enjoyed by all participants. Includes trained facilitators. | First 2 hours free (Include 2 belayers), after 2 hours cost is $100 per hour (Ask about special school pricing!) |
| Paintball Course: Our fully stocked 20 marker course is a huge hit with young and old alike. We provide all the masks, markers, and referee, and give you the option of bringing your own paintballs, or purchasing them from us. | $100 an hour, $5 for 100 paintballs |