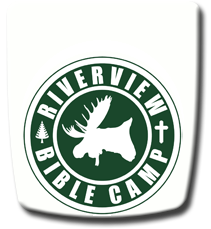 Accommodations
Click to download our camp map
The Cedar Cabins: Located conveniently close to two of our meeting facilities the Cedars are 11 cabins that sleep 10 to 12 people with their own bathrooms, showers, and 3 sinks inside the cabins. Several bunks have been expanded to full size beds for your resting pleasure.
The Tamarack Lodge:The Tamarack is a fully furnished cabin that sleeps 12 with 4 to a room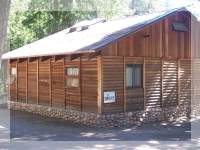 and two bathrooms with showers inside. It has a kitchen and living room with a beautiful deck right next to our camp creek. The Tamarack is ideal for small group conferences and retreats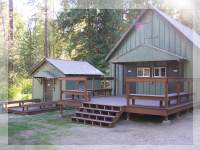 The Fir Cabins: There are 20 Fir cabins that sleep anywhere from 6 to 16 people. These cabins are located close to two large shower and bathroom facilities.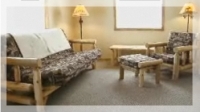 The Pines Cabins: These are cabins that are typically used for your program staff, accessed through the tunnel. Pine 4 has two rooms with a full bed in each, a living room and bath. Often this cabin is used for a guest speaker. Pine 3 has two rooms that sleep two in each room with a living room and bath also. Pine 1 and 2 sleep 8, and both have a bath inside.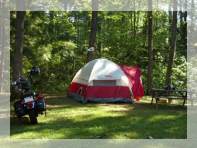 Tent/RV Camp Sites: For those who prefer to stay closer to nature we have 25 tent camping sites and six RV sites, all right next to the river. All tent sites have a fire pit and room for a family-sized tent, and the RV sites have power and potable water (Sorry, we do not have a septic dump station).
Meeting Rooms
Riverview has many different meeting rooms available, with a wide variety of sizes to fit your needs perfectly. For small groups (10-15 people) The Moose Lounge is perfect, with a fireplace and two flat-screen TVs available to show videos or presentations. For groups ranging from 20-50, The Oak meeting room is a flexible space that is available year round...we'll even put up our sound system for you! For bigger groups we have the Old Tab and New Tab, separated by a large accordion door. Close off the Old Tab for groups ranging from 50-150, or open up the doors and fit your entire group of up to 350 inside! Finally, if your needs include meeting room for 350-500 people, we can set up our gymnasium with an epic sound and light system and fit everyone with room to spare! For more details, or to schedule a tour of the campus, please contact Tim Mason at 509-220-9599.
Rental Opportunities
For a small fee you can rent these facilities and equipment to make your camp experience the best it can possibly be!

| | |
| --- | --- |
| Description | Cost |
| The Kitchen:You also have the option of cooking for yourself in our fully equipped, professional kitchen with 4 convection ovens, tilt skillet, 48 inch by 24 inch flat-top grill, stand up mixer, 2 four well steam lines, large stainless food preparation surface, 2 twelve inch spider burners, microwave, 1.5 gallon capacity coffee maker, 2 twelve rack food warmer/proofers, 2 walk-in coolers, 1 reach in cooler, and up to 5 large chest freezers. Lots of large pots, pans, sheet pans, hotel pans, and cooking utensils are also included. Please read the Kitchen rental guidelines for more details. | $200 per night |
| Climbing Wall/Ropes Course: Great for group teambuilding, personal confidence, and building faith in God, the ropes course and climbing wall are both greatly enjoyed by all participants. Includes trained facilitators. | First 2 hours free (Include 2 belayers), after 2 hours cost is $100 per hour (Ask about special school pricing!) |
| Paintball Course: Our fully stocked 20 marker course is a huge hit with young and old alike. We provide all the masks, markers, and referee, and give you the option of bringing your own paintballs, or purchasing them from us. | $100 an hour, $5 for 100 paintballs |