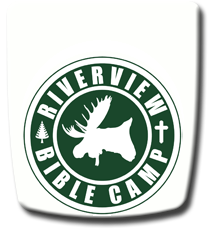 Riverview provides unlimited, fresh-ground coffee for the duration of your stay!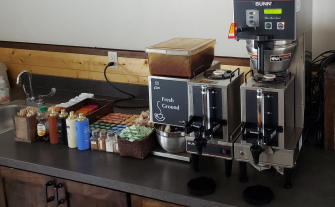 Please note Riverview's food service does not provide provisions for food allergies. Riverview will provide space in our refrigerators and access to a microwave if you need to supplement your diet. We exclusively use Olive Oil for cooking, for other questions about the ingredients we use please contact our Director Tim Mason (
tmason@riverviewbiblecamp.com
).
Meal times are set at 8:00am, 12:00pm and 5:00pm (Friday evenings are allowed some flexibility to allow for travel time from town). Food is served for 45 minutes. After 45 minutes the food line is closed. This is to ensure hot fresh food served in a timely manner. Our food staff cooks 10 percent more food over the numbers that were turned into for your stay. We do this to ensure everyone gets plenty of food and enjoys their meals at camp. We ask that you arrive at your meal times on time in order to ensure that your food is hot and fresh. If for some reason you cannot make it to your meals on time please inform our lead food staff 1 hour before your meal. We also ask that your group does not go back for seconds until everyone has gotten their food.
If you would like your group to have unlimited portions (not including steak, salmon or hamburgers) please let us know and we will provide that for an additional $6 dollars a person per meal.
All of our dinners come with a dessert. If you would like a dessert for lunch it is an additional $3 a person per meal. Specialty desserts are available upon request (for groups less than 50 people):
Sundae bar
, $5 per person: All the fixings for a self-serve ice cream bar. 2 flavors of ice cream, 3 sauces, whip cream, cherries, nuts, sprinkles, bananas.
S'mores platter
, $3 per person: Hershey's bars, marshmallows, graham crackers and roasting sticks provided.
BREAKFAST -- All breakfasts include a granloa bar, fresh fruit, cereal, and unlimited apple and orange juice, and in the off-season also include Riverview's fresh baked bread! Add a cereal bar for an additional $5 per person!
Continental Breakfast
Our continental breakfast includes fresh baked bread and muffins, three kinds of fruit, granola and yogurt, and of course Riverview's famous 24 hour coffee bar.
$10.00
Pancakes
Fluffy hand-made pancakes with thick-sliced bacon and hand-cracked scrambled eggs.
$12.00
Biscuits and gravy
Fresh fluffy biscuits and homemade gravy, served with hand-cracked scrambled eggs.
$12.00
Breakfast Burritos
Our breakfast burritos feature hand-cracked scrambled eggs and sausage in a flour tortilla, served with home-style fries and salsa and sour cream.
$12.00
Breakfast Sandwiches
One or two breakfast sandwiches (Add $4 if you would like 2 per person), hash brown patty or home fries (You select)
$12.00
Egg Bake
Bacon, Sausage, or Roasted Vegetable (choose 2) baked egg and potato casserole. Served with sausage links.
$12.00
Waffles
Thick Belgian waffles with strawberries and whipped cream. Sides include hand-cracked scrambled eggs and sausage links.
$14.00
French Toast
Hand-dipped French Toast, hand-cracked scrambled eggs, and sausage patties.
$14.00
Quiche
Your choice of up to three delicious variations on our home-made quiche! Choose from The Cowboy chock full of sausage and bacon, The Vegetarian with green peppers and mushrooms, or The McConnell with Cheese and seasoned beef! Served with scones and as always, a full fresh fruit bar!
$14.00
LUNCH -- All lunches include a large fresh veggie tray and fountain soda.
Chili Dogs
3oz Hot dogs and piping hot chili, grated cheese, and diced onions. Served with waffle fries and veggie tray.
$12.00
Cold cut sandwiches with soup
Warm up on those chilly winter days with piping hot soup and make-your-own cold-cut sandwiches! Includes two different soups (choose from clam chowder, tomato, chicken noodle, tortilla, and vegetable ravioli).
$12.00
Taco bar
Our taco bar has all the fixings! Flour tortillas, refried beans, ground beef, lettuce, diced onions, grated cheese, olives, diced tomatoes, jalepenos, sour cream, and salsa!
$12.00
Chicken Strips
Crispy chicken strips served with waffle fries and veggie tray.
$12.00
Chicken Caesar Salad
Our endless Chicken Caesar Salad is a huge hit among our adult groups! With fresh-grilled chicken, romaine lettuce, and crunchy croutons, and served with warm sourdough bread, you'll love this meal!
$12.00
Baked potato bar
Great for chilly winter days, our baked potatoes come with salads, as well as the following toppings: Real bacon bits, sour cream, chives, chili, butter.
$12.00
Burgers or Hot Dogs
Choose either our 1/4lb burgers or all-beef hot dogs, or have the option of both for just $4 more! Served with waffle fries and veggie tray.
$12.00
Chicken sliders and Mac and cheese
Our chicken sliders are a huge hit! Served with corn and Mac and Cheese, and veggie tray.
$12.00
Hot wings
Our hot wings are served with seven different sauces including ranch, teriyaki, Frank's Hot, Buffalo, BBQ, Korean spicy BBQ, and bleu cheese, carrot and celery sticks, and french fries.
$12.00
Tour of the Mediterranean
Two different salads (Raspberry and Gorgonzola with fresh apples, and Greek Romaine Salad), Basil, Tomato, and Mozzarella Flatbread, and Zuppa Toscana soup.
$12.00
Deluxe Hamburgers
1/3lb Hamburgers on sesame seed buns, served with thick-sliced bacon, cheese, lettuce, tomato, and onions. Sides include french fries and veggie tray.
$14.00
Teriyaki Chicken Burgers
Succulent Teriyaki chicken breast served on a sesame seed bun with provolone cheese and pineapple slices, served with vegetable stir-fry, rice, and Hawaiian luau chips.
$14.00
Philly Cheesesteak Sandwiches
Shaved steak with roasted peppers and onions, provolone cheese, and hoagie rolls. Served with shoestring fries.
$14.00
BBQ Pork Sandwiches
Smoked pulled pork in tangy barbeque sauce on sesame seed buns. Served with french fries, coleslaw, and baked beans.
$14.00
Hawaiian Luau
Our Hawaiian Luau is a huge hit that will make you think you're in the tropics! Includes Teriyaki Chicken and rice, Spam, Ham, Steamed veggies, and a Hawaiian dessert!
$16.00
DINNER -- All dinners include a salad bar and fountain soda.
Pizza
We make our own Supreme, Hawaiian, Pepperoni, and Cheese pizzas, plus served with breadsticks.
$12.00
BBQ Chicken
Bone-in chicken glazed with barbeque sauce and served with roasted broccoli, steak fries, and fresh bread.
$12.00
Hot wings
Our hot wings are served with seven different sauces including ranch, teriyaki, Frank's Hot, Buffalo, BBQ, Korean spicy BBQ, and bleu cheese, carrot and celery sticks, and french fries.
$12.00
Tour of the Mediterranean
Two different salads (Raspberry and Gorgonzola with fresh apples, and Greek Romaine Salad), Basil, Tomato, and Mozzarella Flatbread, and Zuppa Toscana soup.
$12.00
Baked potato bar
Great for chilly winter days, our baked potatoes come with salads, as well as the following toppings: Real bacon bits, sour cream, chives, chili, butter.
$12.00
Chicken Caear Salad
Our endless Chicken Caesar Salad is a huge hit among our adult groups! With fresh-grilled chicken, romaine lettuce, and crunchy croutons, and served with warm sourdough bread, you'll love this meal!
$12.00
Spaghetti
Our spaghetti sauce is made with italian sausage chunks, we constantly get raving reviews! Served with green beans, garlic bread and dessert!
$12.00
Homemade Lasagna
Hand-made lasagna served with garlic bread and green beans.
$12.00
Taco dinner
Our taco bar has all the fixings! Flour tortillas, refried beans, ground beef, lettuce, diced onions, grated cheese, olives, diced tomatoes, jalepenos, sour cream, and salsa!
$12.00
Chicken fettuccine alfredo
Our alfredo sauce is made fresh with parmesan cheese, heavy cream, and garlic, and is served over fettuccine pasta. Includes roasted veggies, dinner roll and dessert.
$14.00
Teriyaki Chicken
A sliced chicken breast marinated in teriyaki over a bed of rice with steamed veggies. Very healthy and extremely delicious!
$14.00
Lemon Pepper Chicken
Baked lemon pepper chicken served with mashed potatoes and gravy, steamed veggies, and dinner roll.
$14.00
Chicken Fried Steak
Chicken-fried steak served with mashed potatoes, country gravy, and green beans. Served wtih fresh bread.
$14.00
Roasted Turkey
Roasted turkey breast served with stuffing, mashed potatoes, gravy, cranberry sauce, and homemade green bean casserole. Includes dinner rolls.
$14.00
Philly Cheesesteak Sandwiches
Shaved steak with roasted peppers and onions, provolone cheese, and hoagie rolls. Served with shoestring fries.
$14.00
BBQ Pork Sandwiches
Smoked pulled pork in tangy barbeque sauce on sesame seed buns. Served with french fries, coleslaw, and baked beans. Served with apple pie for dessert!
$14.00
BBQ Pork Ribs
Delicious fall-off-the-bone bbq pork ribs, with buttery corn bread, western style BBQ baked beans, and apple pie for dessert.
$15.00
Hearty Pot Roast
Tender pot roast with baby red potatoes and steamed carrots, served with fresh bread
$16.00
Hawaiian Luau
Our Hawaiian Luau is a huge hit that will make you think you're in the tropics! Includes Teriyaki Chicken and rice, Spam, Ham, Steamed veggies, and a Hawaiian dessert!
$16.00
Alaskan Salmon
Alaskan baked salmon steaks served with wild rice, steamed veggies and a dinner roll, followed by cheesecake for dessert!
$16.00
Full steak dinner
6oz marinated, flame-grilled steak, served with baked potato, green beans, and dinner rolls. Includes cheesecake for dessert.
$16.00